I don't know how I missed this one before…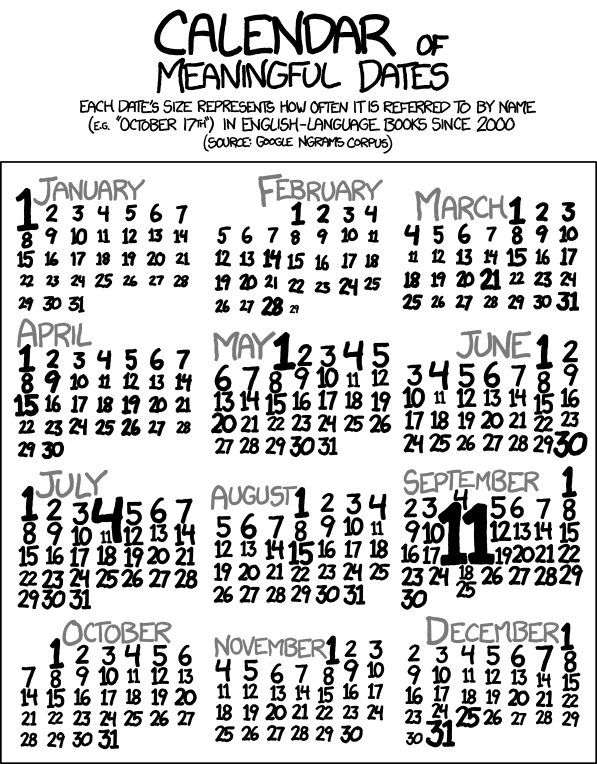 So why are the first of most months really important except poor February 1?  Also I wonder how to scale the numbers are… like is September 18th and basically the 11th of every month really THAT less important than every other date?  Also why are people saying October 31st instead of Halloween?  Like with December 25th I can only assume it's not huge because most people say "Christmas".  So I googled the dates that stood out to me:
January 10 – nada

January 15 - pretty much nothing. That airplane did land in the Hudson river then but in 2009 so I'm not sure how many books would be written about that yet
March 21 – it's one of three possible first days of equinox?
April 9 - the national day of unity in Georgia?
April 15 - tax day…sometimes
May 1 - May Day, but also according to a random website "May 1st, often called May Day, just might have more holidays than any other day of the year. It's a celebration of Spring. It's a day of political protests. It's a neopagan festival, a saint's feast day, and a day for organized labor. In many countries, it is a national holiday."
June 1 and 4 – No idea
June 30 – Well in 2012 there was a "leap second" on June 30….
July 1 – I will assume is because of Canada Day, although we don't call it "July 1st"..
August 1 – It is the name of a Malayali movie
August 15 – India's independence day
November 1 – All Saint's Day or the Day of the Dead
December 6 - Nothing…unless people were writing about what happened the day before Pearl Harbor Day?
It took me a while to notice this but look at the huge disparity between the summer months, and the rest. I guess we like to imagine things (and therefore write about things) in the summer rather than the boring winter. This is making me really want to write a book that takes place entirely on February 11th.